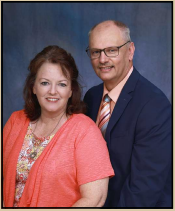 Terry Robertson

Terry's enthusiasm for music is infectious! He loves to sing and loves the One to Whom he sings. He loves to sing more than he loves to fish, and that's saying something! As minister of music, Terry brings his love of music to life in every service. The New Testament Baptist choir has grown from 10 people to a 50+ member FAITHFUL choir, and it's all because of God's amazing grace.

Down-home, Georgia Southern Gospel Music finds its place in every service. It is Terry's desire to see the hearts of our congregation stirred as they make preparations in their hearts to hear the Gospel that will be delivered after our celebration in songs. We have many talented groups and soloists who also deliver the powerful message in song each Sunday. Terry is constantly encouraging choir members to stretch themselves vocally and personally for the Savior. Each year new and fresh material is added to the choir and congregation in an effort to promote God's Word A-NEW and very powerfully in song. Choir practices are not just music practices, but a time of worship and praise every Sunday night at 5:00. Members are encouraged to pray for one another, be passionate about their songs, and show their love for Christ in every note they sing!




Terry and Beccy have been married and singing together for 30 plus years. They have two children, Kristen and Justin. They have eight grandchildren who are the light in their eyes. Beccy is the pianist for New Testament Baptist Church and is instrumental in helping Terry organize the music ministry and arranging many of the cantatas and special musical events at New Testament.




To Terry, the music ministry is not just a vocation, but a WAY OF LIFE. Come see why we think New Testament Baptist Church has the best music in Georgia! Visit us each Sunday at 10:30 a.m. for a time of fun, worship, and praise. Terry and Beccy's goal is to make MUCH of the Savior "from when the first bell is rung, till when the last song is sung!"






Brett Johnson
Energetic, goofy, loving life are great ways to describe Pastor Brett. Brett grew up in what would be considered a broken home; however, God is the God of hope and restoration. At the age of twelve during a revival at his church he realized that he was a sinner on his way to hell; that night he put his trust in Christ to save him. Being called at the age of eighteen to full time ministry, Brett felt a great burden and passion for youth ministry. This desire, given by God, led him to participate in several ministries: Awana, Christian camp, youth internship, Bible clubs and even Christian college where he met his better half, Lexie. After graduating from seminary, Brett and Lexie stayed to work for their Christian college for three years before being called to New Testament Baptist Church.

Brett and Lexie's love for ministry is evident in their involvement with children's ministry as well as the youth. Whether they are preparing for Wednesday night youth group, enjoying a youth activity, or joining NTBC Kids for worship service, they absolutely love what they do. The Brett and Lexie Johnson team is comprised of seven people: Brett, Lexie and their five children Reese-Anne, Micaiah, William, Janna, and Savanna. Pastor Brett says "It is great to do what you love and every day I am blessed to minister to youth and children; I am living the dream. Our goal is for the children and the teens to come to Christ for salvation and to develop a great love and devotion to Him; that they would serve God for the rest of their lives."
Pastor Brett's life verse: Jude 22 "And some having compassion, making a difference."
Favorite quote: "Those that live for the next life make the greatest impact on this life."


Chris Vardaman

Chris and Lauren Vardaman lead the children's ministry which includes NTBC Kids (Sunday mornings), Building Disciples of God (Sunday evenings), and Awana (Wednesday evenings). They have three children - Addyson, Mason and Ellison.















Tracy Green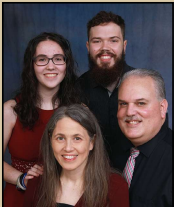 Tracy, her husband Matt, and their children, Dalton and Matlyn, moved to Loganville in December 2003 and joined New Testament Baptist Church in 2004. In July 2009, she began working as a part-time office assistant. In 2017, she became the church administrative assistant. Matt and Tracy are active in the AWANA program and currently teach the college & career Sunday school class.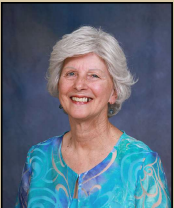 Ruth Ann Foil

Ruth Ann has been a faithful member at New Testament Baptist Church for several years. Ruth Ann is a part-time office assistant. She assists the church administrative assistant with office duties.









Meredith Davidson
The Davidson family, Joey, Meredith and their children Tabitha, Stella, Walker, and Jenna are faithful members of New Testament Baptist Church. Meredith is the
financial secretary, is active in the AWANA program and teaches children's Sunday school. Joey leads the audio and video center.