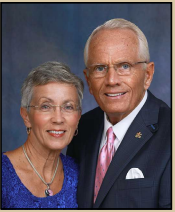 Greetings from the Pastor

It is my joy as pastor of New Testament Baptist Church to welcome you to our website.




We started our church in October of 1995 by meeting from living room to living room, moving on to a motel banquet room, then moving on to a vacated funeral home, and finally, in 2001, building our first building on the beautiful 10 acres where we are now located at the corner of Broadnax Mill Road and Youth Monroe Road in Loganville, Georgia.




Our church is an exciting church, committed to helping people-all people-in our area. This is the ministry the Lord Jesus has given to us, and we rejoice to have a part in it. We are here to serve you and to help you meet the spiritual needs of your family.




Our goal is to teach and preach the Word of God and apply it to our life today in such a way that changes lives. We teach and preach from the King James Version of the Bible and our southern gospel music will stir your heart.




Our heartfelt prayer is for you to know Christ as your personal Savior and to be involved in a church home that cares about you. We care at New Testament Baptist Church. Allow us to prove it. Visit with us soon!